Odd Couple Interview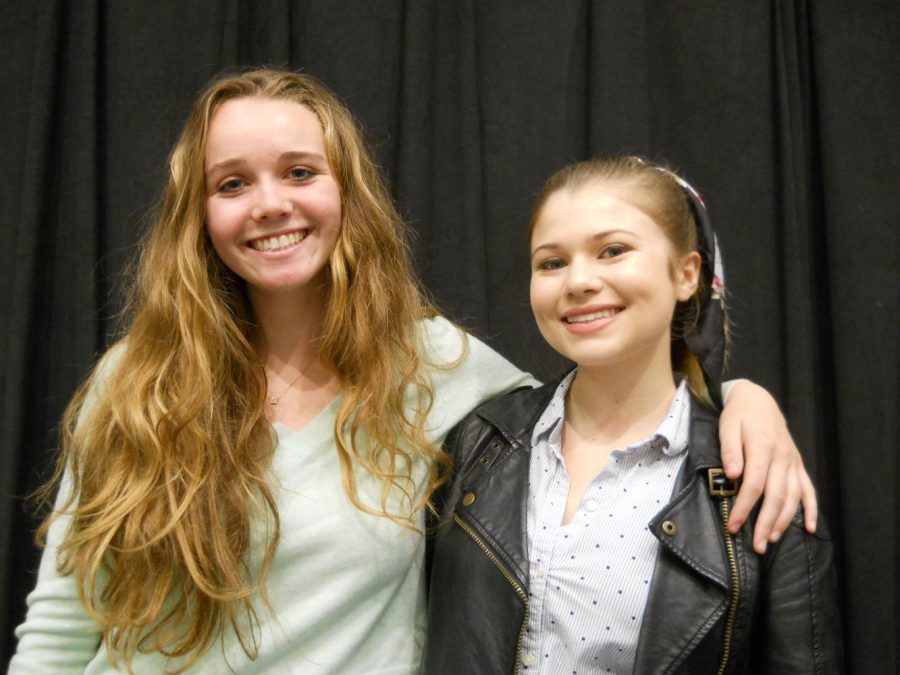 Rachel Schultz, Indie Clark, Daisy Cholden, Lani Tavangar, and Ella Schuppeke
October 16, 2017
Names
Maddie & Brookie
Grades
Seniors
Role
Directors
Summary
The Odd Couple, written by Neil Simon, is a play largely about the relationship between two friends– Olive and Florence– who decide to live together after Florence's husband files for a divorce. Problems arise as the two realize that they are utterly incompatible– in short, Florence is neat, Olive is messy– and they drive each other crazy. There is a fun cast of characters: Mickey the cop, Sylvie the compulsive smoker, Renee, the complainer, Vera, who is a bit slow, and Manolo and Jesus, the gentlemanly Spanish brothers.
Where
The PCS theater space in the Wrigley Building.
When
Thursday November 2nd, Friday November 3rd and Saturday November 4th at 7:00.
Interview with Maddie:
1.What made you want to direct the thespian play this year?  Have you had any experience directing prior to this show and if so what?
I've been participating in the theater department at PCS since 7th grade, and I've loved both acting in and doing tech for various Thespian plays over the years. I love studying a scene until you get how a character ticks, and I really enjoy working to make multiple aspects of a production (particularly set design and scene work) come together. Also, I adore Brookie and love working with her, so I thought that directing together would be a great project to take on this semester.
Did you pick the show? If so why?

Yes, Brookie and I picked the show together. Over the years in PCS drama, we've done a lot of Neil Simon's stuff– the first scene I worked on in Drama 1 was from Barefoot in the Park, and we put on a production of Fools in drama 3– so I had a feeling The Odd Couple would be great. It's hilarious, and it has a lot of female characters, which is a huge plus (we have more girls than guys in the theater department, but most plays are written with a majority of male characters).
What do you look forward to you about directing a couple

I think it will be fun to work on the dynamic between Florence and Olive (who will be played by Sara and Ella), because there's a lot of fun energy there that's both positive and negative, and it often feels like there aren't enough multi-faceted female relationships in the media (Christina Yang and Meredith Grey's friendship is awesome, though).
How did you feel when going through auditions and callbacks? And how did you feel/respond to the people who showed up to audition during callbacks?

Auditions were both exciting and a bit of a bummer. Exciting, because there was so much talent there and Brookie and I knew we'd end up with a wonderful cast, but also kind of awful because you can't cast everyone. There were a lot of people who auditioned that we didn't ultimately end up casting, but they showed a lot of talent, and it was rough to have to turn them away. Brookie and I were pretty pumped on the seventh graders this year– there was so much enthusiasm and talent! I hope all of you who auditioned do so again next year.
If you were to add more characters who would they be, what would they be like and how would they contribute to the show?

I wish that Florence's ex-husband showed up in the show, because he sounds hilarious– he wears cowboy boots and has a toupee- but unfortunately he's only talked about by the characters who do appear onstage.
What are your plans for the odd couple?

For the musical Spring Awakening last year, we tore down the stage and reconfigured the theater, so we need to rebuild the proscenium. Beyond that, we're just gonna have to see what happens! We'll be having rehearsal twice a week after school and once a week during lunch until tech week.