Breonna Taylor and BLM Protests: How You Can Get Involved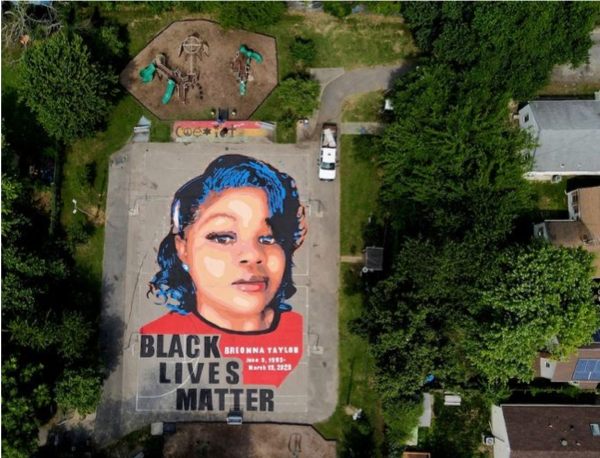 At 12:30 am on March 13th, 2020, 26-year-old Breonna Taylor was shot and killed in her own home by three police officers–Jonathan Mattingly, Brett Hankinson, and Myles Cosgrove . The officers were there on a search warrant as part of a narcotics investigation. However no drugs were found in her home and the warrant didn't target Taylor or her boyfriend, but instead her ex boyfriend, a low-level drug dealer who lived miles away and had already been arrested by the time they entered Taylor's home.
The plainclothes police officers showed up around midnight and banged loudly on Taylor's front door. When asked who it was by Taylor and her boyfriend, Kenneth Walker, they did not announce themselves as law enforcement.  The officers proceeded to enter forcefully by using a battering ram, taking the door off its hinges. The couple thought that someone was breaking into their home. Walker, a licensed firearm owner, pulled out a gun when they entered, and in self defense shot an officer in the leg. The officers began to open fire, shooting 20 rounds into the home. Taylor was shot eight times and pronounced dead at the scene
For months none of the law enforcement offers were charged for Breonna Taylor's murder. On May 21, 2020, the FBI opened a case, however none of the officers were charged with any crime until September 23. Law enforcement Brett Hankinson got three wanton endangerment charges, a Class D felony. He wasn't charged with Taylor's murder but instead only for the shots he fired into Taylor's neighbor's windows. The other two officers were let off with no charges. Additionally, only Hankinson was fired from his job. On September 15th Taylor's family received 12 million dollars from their lawsuit, but Taylor's mother said in a press conference: "It's only the beginning of getting full justice for Breonna. We must not lose focus on what the real job is".
The killing of Breonna Taylor has become an important flashpoint for the Black Lives Matter movement. Zanthee Schwartzmann, a PCS junior, notes that there are many ways that teenagers can support the Black Lives Matter movement. She observed: "A quick and simple thing that everyone can do is take 20 minutes out of their day to educate themselves and others, 5 minutes can be put toward signing petitions… 15 minutes can just be spent looking through either political Tik Tok or political Instagram and reading and posting about the things you learn."
Petitions for change
https://www.change.org/p/andy-beshear-justice-for-breonna-taylor
https://petitions.whitehouse.gov/petition/justice-breonna-taylor-5
https://www.change.org/p/national-action-against-police-brutality-and-murder