COVID Companions!
Relationships with Pets Thrive During Quarantine!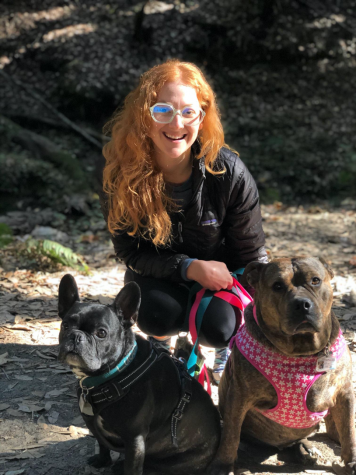 One bright side of staying at home during the pandemic is that the PCS community has been growing closer to their pets. For example, the 7th-grade English teacher Kelly Dunn has two amazing dogs. Ms. Dunn has a male dog named Lucas and she just recently got a new dog female from the pound named Daisy. The smaller black dog, pictured on the left in the photo, is Lucas and he is older than the younger dog Daisy, the one on the right.
Lucas is 7 years old and Ms. Dunn has had him for 6 years. Since they just got Daisy from the pound, they don't exactly know exactly how old she is but think she is in between 5-7 years old. One of Ms. Dunn's favorite memories with Lucas before COVID is that they have gone on road trips and they've gone camping.
"I think maybe the first road trip that we took with him which was Oregon, a few years ago, is probably my favorite memory," Ms. Dunn said. A new memory she created during quarantine with Daisy is she recently took her to the beach. Daisy was pretty excited and had a good time, Ms. Dunn noted.
Ms. Dunn said that Daisy is still adjusting or to her new home. "Daisy is really sweet and cuddly and loves attention, but if you are not giving her attention she will whine and she will whine loudly until you will pay attention to her," she said.
A change Ms. Dunn noticed about Lucas's behavior due to COVID changes is that now that he is used to Ms. Dunn being at home all the time, he gets a little irritated if he's left alone at home. She notes that Lucas misses being the only dog, but also enjoys playing with Daisy.
"I think he just really loves her," she notes. "He kind of lets her bully him around a little bit,  but it's funny to see him in that new light of having a sibling." Watching Lucas and Daisy play is one of Ms. Dunn's favorite things because they're goofballs.
One activity Ms. Dunn really likes to do with her dogs is take them on walks. "Lucas isn't one of those dogs that needs to go on walks to burn off energy, but Daisy prefers to have two walks a day," she says. Although Daisy tends to be really energetic, when Ms. Dunn recently celebrated her grandma's birthday for turning 92, Daisy was really gentle and knew she had to be careful and cautious.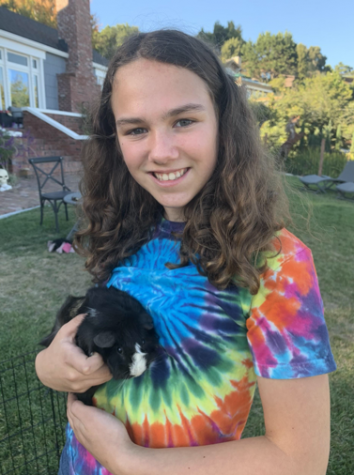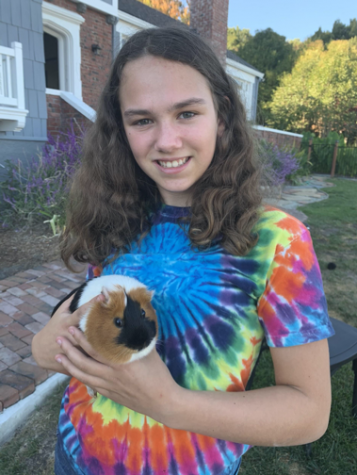 Seventh-grader Grace Nicely has been spending a lot of time at home with her three awesome guinea pigs: Smores, Caramel, and Mocha. Smores is 4 years old and Caramel and Mocha are sisters who are both 2 years old. Smores is the guinea pig with black, brown, and white colors. Caramel is the guinea pig with the blondish coloring. And Mocha is the guinea pig with black hair.
Grace recently got Caramel and Mocha during quarantine so they are new to the family. One of Grace's favorite memories with Smores is that when Grace was seven she and a friend made a castle for Smores out of old and useless items that they had, and they put it outside.
"They ended up escaping and we spent 3 hours trying to catch them and that was fun," Grace remembers. A change of behavior that she noticed in Smores recently is that she used to hate strawberries but when Caramel and Mocha started eating them, Smores also began to like strawberries.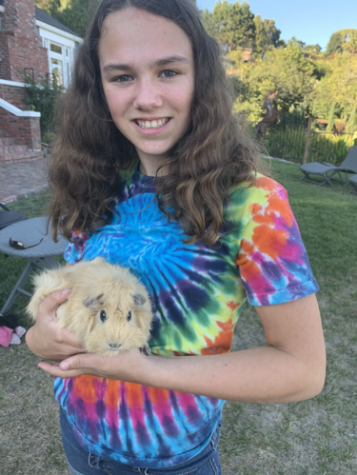 Something Grace likes to do with her guinea pig is put them in their little playpen outside and watch them eat grass and pet them. Grace divides the cage and puts a fence in the middle because Smores and her two other sister guinea pigs don't get along all the time. Guinea pigs are independent, like cats, so they don't need baths and they make noises that sound kind of like birds. Grace also added that Mocha is more skittish and scared than the other two guinea pigs.
In total, Grace has had five different guinea pigs. Grace said that her guinea pigs "can eat any type of vegetable" but they like "hay, grass, and fruit like strawberries." A fun fact that Grace mentioned is that guinea pigs don't actually sleep–they take short naps.
The 7th-grade History teacher Gabriel Cohn has also been growing closer to his two very adorable cats. Mr. Cohn has a male cat named Quicksand (pictured on the right), who is a year-and-a-half old and a 12-year-old female cat named Tephra (pictured on the left).
One of Mr. Cohn's favorite memories with Tephra before COVID also involves traveling. He got Tephra when he lived in Oakland and in 2009 they moved to North Carolina and drove all the way across the country with her, which she did not like. In 2013, they took her up to New Hampshire, where Mr.Cohn's wife's parents live, and Tephra lived there for 6 months before they picked her up and drove to Indiana. They eventually drove back to North Carolina and then Tephra came back to California with them in 2014, when Mr. Cohn started teaching at PCS!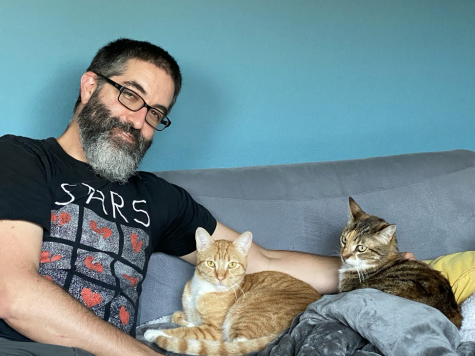 Mr. Cohn remembers that when Tephra was younger and they had their old cat named Earthquake, Tephra liked to walk over and sleep on top of Earthquake's cage. During the recent wildfires, Mr. Cohn and his wife, Jessica, drove down to L.A. to get away from the fires and they took their cats, of course.
Quicksand was whining and yowling, Mr. Cohn remembers, but when he opened the cage Quicksand went right on to Tephra's cage and slept on top. One of Mr. Cohn's favorite things about his cats is that he has a deck and his cats like to go on the deck and climb up the railing and go to the neighbor's deck. They like to bring back things like leaves and stuff that they find back there. Mr. Cohn's favorite activity with Quicksand is that, when he is in the mood, he likes to play fetch!
There hasn't been many changes of behavior in Mr. Cohn's cats due to COVID, he reports. "They are always so cute and cuddly," Mr. Cohn notes. They just like to hang out on the couch and stay there." In Mr. Cohn's life, he has had 7 cats in total: Polly, Smoky, Storm, Hurricane, Earthquake, Tephra, and Quicksand.
Seventh-grader Zoe Perera has a very cute and sometimes troublesome cat named Olive. Olive is a female  tortoiseshell cat that Zoe got when she was in 3rd grade; Zoe doesn't exactly know how old Olive is but thinks she is in her cat middle age. Zoe's favorite memory with Olive before COVID was on a Saturday morning when her mom was making pancakes and they were too lazy to put the dishes away. Olive stepped on the syrup from the dishes and there were sticky cat footprints all around the table!
A new memory with Olive during COVID is they recently put a bird feeder in their backyard. They weren't expecting Olive to catch any birds because she's really fat and slow, Zoe said. But "she ended up catching a bird and it was really sad," Zoe remembers. "It was during a Zoom class and Olive was scratching at the door with a bird in her mouth and I tried not to look at her."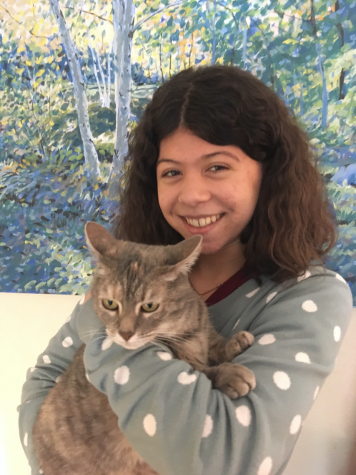 Olive is an indoor/outdoor cat so she goes in and out of Zoe's mom's house. Before quarantine, they would have a fixed schedule of when Olive could be let in and out and how long she would be able to stay outside. But now, during quarantine, Olive goes in and out whenever she wants because everyone is at home and she'll scratch and cry loudly until Zoe opens the door for her.
Something Zoe recently learned about Olive is that she uses her litter box but she also evidently poops in the backyard and cleverly hides it. They never noticed this because they weren't as home as much. Now, Zoe is scared to go into the yard without shoes.
A favorite activity Zoe likes to do with Olive is make a trail of cat treats leading Olive to her so that when she finishes eating them, Zoe will scoop Olive up and hug her until she gets really mad.
Zoe noted: "Our sofa is clawed to shreds thanks to Olive, and also all of my leggings have some cat scratches on them because she likes to knead them."  Olive also enjoys knocking things over on Zoe's desk so Zoe has to be careful of leaving out cups of water, which Olive will immediately knock over. Olive also likes to hide under Zoe's bed and whenever Zoe comes near, Olive will paw and pounce at her feet!