Local Community Service Organizations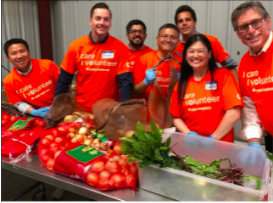 In light of the Covid-19 pandemic, experiencing social isolation has become increasingly prevalent in all of our lives. Volunteering is a great way to get involved with the community and meet people with similar interests. Additionally, helping out different organizations can provide the opportunity to improve skills such as leadership, communication, teamwork, and responsibility.
As we all know, community service is a graduation requirement for each student at PCS. Middle schoolers need 10 hours of service each school year, and high school students require 20 hours every year. Especially due to the pandemic, it may have been difficult to get involved with community-based organizations last year. Conveniently, there is a plethora of opportunities for volunteering, ranging from beach clean ups to tutoring other students. Hopefully you can find one that aligns with your interests!
We contacted the local leaders of three different organizations in Santa Cruz to ask for their perspectives and insight about what it's like to volunteer with these groups. Here is some information about the different organizations, as well as highlights from the volunteer coordinator's responses.
Homeless Garden Project: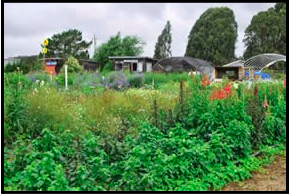 The Homeless Garden Project is a local organization which focuses on providing job training, transitional employment and support services to individuals in Santa Cruz who are experiencing homelessness. They have both on-going, as well as one-off volunteer opp
ortunities. If you are under 16, consider signing up to volunteer with a parent or guardian. Otherwise, there are no limitations on who can volunteer 
here.  If you choose to volunteer at the Natural Bridges Farm, possible ways you might be helping include: weeding, harvesting, planting, building compost, and more. On the weekends, they accept volunteers from 10am – 4pm; you can sign up in advance or drop by. Here is the link to their website for more information: https://homelessgardenproject.  
Paul Goldberg, Director of Development at HGP graciously answered some questions about the organization. 
What are some of the Homeless Garden Project's goals?
"One of the main goals of HGP is to work towards overcoming the stigma of experiencing homelessness by bringing people together, and allowing folks to recognize each other's humanity." 
What can volunteers expect to do on a typical day?
"Volunteers can expect to dig in the soil and help us maintain the farm, while connecting with fellow community members."
Outside of or in addition to volunteering, what's one way that community members can make an impact?
"Looking into local advocacy and being aware of the current events going on in our community are also ways that one can help combat a culture that dismisses people who are experiencing homelessness as less than."
Second Harvest Food Bank of Santa Cruz County: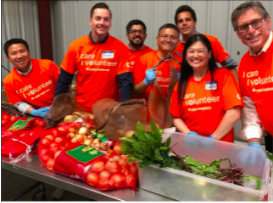 The Second Harvest Food Bank of Santa Cruz County is a great opportunity to help fight hunger in our area. Since 1972 (Second Harvest is the 1st food bank in California, and the 2nd oldest in the nation!), this organization has helped distribute an array of healthy meals for our neighbors in need. Second Harvest needs volunteers to aid their mission by working on food sorts, community distributions, helping around the warehouse, and more. They accept ages 13 and up if accompanied by an adult, and volunteers must sign a waiver before working on site. Visit their website https://www.thefoodbank.org/ for more information about what you can do to help. 
Jael Ganley, the head volunteer coordinator kindly answered some questions about Second Harvest's community service program.
What are Second Harvest's goals for the near future? 
"Our mission is to end hunger through healthy food, education, and leadership. Only with adequate food and nutrition can children learn, adults work, and our community thrive."
What can a volunteer get out of the experience? 
"Volunteering connects you to others, and your community. Volunteering is good for your mind and body. Volunteering can help you gain skills that can be applied in any career. And lastly, volunteering can bring fun and fulfillment to your life."
Who would you recommend for volunteering?
"Everyone who is 13 years and older and is willing to help feed the hungry families in our communities."
What is your favorite thing about Second harvest? 
"Being able to have a feeling of fellowship with others, as a result of sharing common attitudes, interests, and goals."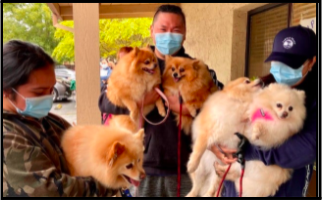 Santa Cruz County Animal Shelter: 
By volunteering at the Santa Cruz County Animal Shelter, one can help be a part of critical roles that are fundamental to the well being of the animals staying there. Animal lovers have the unique opportunity to care for a variety of creatures, ranging from cats and dogs to pocket pets and farm animals. Volunteers can also help out with fundraising, social media, transportation, gardening and several other options, which are all listed at the volunteer opportunities page on their website. 18 year olds and up can volunteer on their own, while ages 13 to 17 need to work with a guardian. SCCAS is a wonderful place to devote your required hours as it provides enriching experiences alongside adorable animals and the incredibly supportive staff. To find out more about this super fun place to volunteer click the link here https://www.scanimalshelter.org/become_a_volunteer/ .
Erika Smart, the volunteer coordinator of the Santa Cruz County Animal shelter graciously agreed to  answer some questions about the volunteer program. Here are her responses:
What can a volunteer get out of the experience? 
"Volunteers get to meet other animal lovers, and do work that impacts the entire county in a positive way."
What is the animal shelter's overall mission?
"The animal shelter strives to rescue and assure temporary shelter, veterinary and humane care for stray, unwanted, abandoned, mistreated, neglected and injured animals. We also provide locations where people can find and recover lost pets and adopt new animal companions."
What kind of volunteers would the shelter most benefit from having?
"​The Shelter benefits from any and all volunteer help!! From walking dogs to doing laundry, we need assistance every day of the year to care for the over 5,000 animals we take care of annually."
What is your favorite part of the animal shelter? 
"My favorite part about the animal shelter is seeing a very shy, scared, or injured animal get a second chance, and getting to be a part of these animals' journey to finding a great home."
The organizations described above are just a few from the wide range of organizations located in Santa Cruz. We encourage you to contact Ms. Musal at [email protected] for any questions regarding PCS's volunteer requirements or any organizations that you would be interested in helping out. Key Club and Rotary Club also assists students in need of community service hours by organizing as well as announcing different events in the community.