Farewell Ms. Hughes!
Alice Hughes first joined the PCS community when her children were admitted in 2001. PCS has historically taken pride in being an arts school, but in its first few years, our school actually did not have a choir. "How can you have an arts school without choir?" she asked. So "when my daughter was a sophomore, I actually wrote the curriculum." After a different choir teacher came in and out, in 2004, Ms. Hughes' career at PCS began.
Ms. Hughes has taught the student choirs of Bella Voce (soprano-alto), Callista Chorale (SATB/mixed voices), and Canto Basso (tenor-bass). She usually teaches two of these choirs – two class periods – per school year. She also recently began teaching Callista as a seminar for students interested in choral singing without the space in their class schedules, or those who just wanted more choir. 
"There's all this unity that comes from singing, and I think if everyone sang every day, we'd be a lot more peaceful and happy," she says. Thus, about 10 years ago, Ms. Hughes founded yet another ensemble: the PCS Community Choir, a "multigenerational choir, [with] parents, alumni, grandparents, faculty, students, all singing together." They would meet once a week to practice pieces that they'd sing at upcoming concerts, including a finale performed together by all Ms. Hughes' choirs. She takes pride in this unique choir, having given students "the opportunities to sing some bigger music with mature voices." Katie Sarna, a 2020 PCS alum in Community Choir, agrees, "all the parents can know each other, and the alums all get to know each other too, as well as the students. So it really does its job of being a community choir." Another Community Choir/Canto Basso 8th grader, Emiliano Alexander Medina-Mora, has been taking lessons under Ms. Hughes since he was 7 years old: "She made me want to embrace my voice… [and she is] probably the most amazing teacher I've ever had."
Along with her numerous choirs, Ms. Hughes has worked closely with Cindy Gorski, PCS's founding drama and thespian teacher, throughout her time at PCS. They co-led the Introduction to Performing Arts class for 7th graders, and since last year Ms. Hughes has taught the class herself. She also collaborates with Ms. Gorski on the PCS musicals. This year Ms. Hughes was the music director/conductor for their last musical together, You're A Good Man Charlie Brown, which ran six shows over two weekends in March. "It was just such a delightful way to end, for me. It was the perfect post-pandemic show, because there was so much joy in it."
Moreover, on the singularity of PCS, Hughes remarks, "the thing that struck me the night I came for my very first Back to School Night was how incredibly passionate all the teachers were about their subject matter. And that has continued. And I really do think that's one of the things that makes PCS so amazing… [which] makes for a really great place to work, because all my colleagues are wonderful."
Trung Lai, a PCS teacher of various math classes, notes, "she's very unique in the sense that she's a music teacher, but she has a very mathematical mind" (in fact, Ms. Hughes took advanced math classes throughout high school, until she decided in her senior year to focus on choir). Mr. Lai, who only really got to know Ms. Hughes through shared committee work over remote learning, remarks at her "amazing energy for doing new things". He recalls her learning and incorporation of Bitmojis into slideshow presentations to better captivate audiences: "she was adamant that I make my own Bitmoji… [it's] unique to see someone who's that engaged and trying to get everyone else that engaged."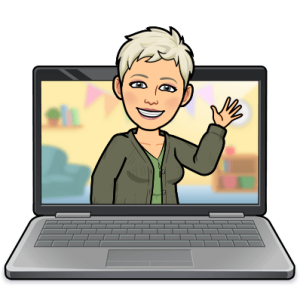 Continuing with her appreciation of PCS, "of course the students are also the best part," Ms. Hughes adds with a fond chuckle. "Being able to have students for up to 6 years in the same classes allows me to really watch kids grow in their music, in their singing, in what we're able to do." She also loves "how engaged [students] are in their other subjects, and therefore they bring that into choir. So when we're doing music it's… a whole-brain activity."
As we asked fellow choral students about Ms. Hughes, we heard appreciation for her abundance of energy and joy and warmth. In their speech for Ms. Hughes at the farewell ceremony, Elle Walters and Makenna Sandidge, PCS seniors and Bella Voce/Callista singers, recognized her immense, holistic strength, and cited her as source of inspiration for young women over their years at PCS. Something that further stood out across interviews was student appreciation for the safe spaces that Ms. Hughes created around her. Emiliano shares that he feels "more confident with my singing when I'm around her." And sophomore Amber Waldo puts it: "I think I could come to her if the world was ending, and she'd be alright with it". 
After she retires, Ms. Hughes hopes to have imparted the legacy, "that beauty is an important part of our lives. Daily beauty changes us as human beings, and singing is one of the most human things to create beauty." And she has. Katie calls "the variety of music" that she has sung in Community Choir "enthralling". Moreover, Aiden Loehde-Woolard, who took choir for the first time this year with Ms. Hughes, recalls, "When I was worried about college and told her I thought it would be inefficient to change majors part way through, she told me something that I immediately wrote down. She said: 'It's okay to be inefficient. It doesn't have to be a straight line. You can take a curvy path and that's okay because — you know what? Along that curvy path are beautiful things.'"
To continue that legacy, Ms. Hughes says she is "really committed to finding someone fabulous… who will have new, amazing energy and ideas and can let the choirs blossom in new ways." After her retirement from PCS, Ms. Hughes will continue teaching private studio lessons. She also hopes to do more performing herself, as well as "of course, spending time with my grandchildren". And, forever the choralist, she already has two choir clinics scheduled this summer, where she will be workshopping with groups of singers. "I'll still be doing choir," she says, "just not the everyday."
No doubt Ms. Hughes will be sorely missed, by her students, by her colleagues, and by everyone in the PCS community who has glimpsed her brilliant energy. She has left us with beauty and music in our hearts, and through her classes helped made PCS into the rich arts school that it is. Thank you, Ms. Hughes, and we wish you as much beauty and joy moving forward as you have imparted upon us.
To watch past concert hits and possibly future performances, check out Ms. Hughes's YouTube channel here!