Firing of Former County Fair CEO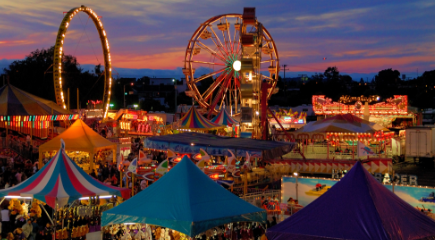 David Kegebein was the CEO of the Santa Cruz county fair for 11 years until October 4th, the fateful Tuesday when he was fired by the County Fair's board of directors in a 7-2 vote. This was on the heels of a compliance audit from the California Department of Food and Agriculture (the agency that controls the affairs of the county fairs in California), where they charged Kegebein with ignoring regulations about his spending; this included unauthorized charges for automobile expenses. 
On October 25, the first board meeting since his dismissal was held. Though he was not the CEO nor on the board, Kegebein was in attendance. At the meeting, Kegebein did two things that shocked the other attendees. One, he accused the chairman, Don Dietrich, who took charge after Kegebein's dismissal, as well as other board members of using the fair's property for personal matters. Secondly, he presented a check for all of the money that the audit had claimed.
After his termination and the subsequent replacement of the only two board members that voted against the termination, Kegebein received a massive outpouring of support from people in the community. They have also blasted the CDFA and board, throwing the fair's leadership into disarray. 
It may seem like the check Kegebein wrote should cover the reason he was terminated. But in an interview with Lookout Santa Cruz, he gives a different story. According to him, he's "put hundreds of thousands of dollars into this fairgrounds." Kegebein reckoned that he had put in around $660,000 in personal resources, such as a truck that he had worn out through work. He states that, "This [issue] has nothing to do with a little bit of money. This has everything to do with power and control." His mileage reimbursements would be $100,000 dollars in excess. One aspect of the state system is that they reimburse you 58 cents per mile for using your personal vehicle, but the trucks that he uses for work cost more than a dollar per mile. He simply does not want the mileage expenses to be an argument, regardless of whether he kept track of the mileage or if his fuel was bought, as he doesn't want people to think that he was seeking to steal from the fairgrounds.
As was mentioned before, there were two board members who voted against Kegebein's termination, Loretta Estrada and Jody Belgard, both of whom were soon replaced. He says that their replacement was "100% retaliatory."
On Feb 7th, at another meeting, approximately 100 people came to the Fine Arts building at the Santa Cruz County Fairgrounds, attending another meeting of the County Fair's board of directors to deliver their message: They are still strongly against Kegebein's termination, and their opinions won't be changing anytime soon.
It has been stated by many prominent speakers in the community that firing Kegebein has created massive distrust between the community and the Santa Cruz County Fairgrounds board of directors, and the state agency overseeing the fairgrounds affairs, the California Department of Food and Agriculture.
When asked if he would take legal action against the state he responded, "Absolutely." However, he explained that it would likely not be a wrongful termination suit. 
Kegebein is thankful for the public uproar and support and is hopeful community involvement will continue in the months to come.